Products – Coating Remover
Coating Remover : Removes any resin based coating
K&E Coating Remover® is an extremely effective and easy to use stripper, which is ideal to use in almost any application. Coating Remover is a molecule expanding formula, so it works on virtually all coatings, including polyurethane and epoxy formulations. However, Coating Remover has a low volatility, so instead of evaporating rapidly, it remains on surfaces, working and softening. Coating Remover removes more paint in fewer applications than methylene chloride containing paint strippers, and because it is water-soluble and biodegradable, it cleans easily and is environmentally friendly.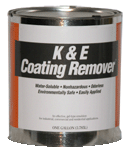 Interior & Exterior Use
Stripes
Paint
Urethanes
Expoxies
Floor Finishes & Sealers
Used On Vertical Surfaces
Coverage
Approximately 50 - 100 sq. ft. per gallon
Packaging
Cases of 4 x 1 gallon bottles
 5 gallon metal pail
Safety
CAUTION When Using Coating Remover
Wear Oil Resistant Clothing (Gloves & Goggles)
Ventilate Enclosed Areas
If gets on skin or in eyes rinse thoroughly with water.