Products – Mineral Sealer
A clear, odorless, water-based, non-flammable formulation that penetrates, seals, hardens, and protects a variety of surfaces. Minereal Sealer also helps to increase hardness and strength to cement, terrazzo, mortar and grout joints, and other masonry surfaces. 
This product is not a surface film so it doesn't develop unsightly traffic patterns on floors. Also, Mineral Sealer will not chip from outdoor weathering as do paints, coatings, and plastic sealers.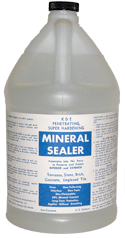 Interior & Exterior Use
Used For:
Removing Stains From Marble and Other Stones
Coverage
Approximately 200 - 1200 sq. ft. per gallon, depending on the porosity of the surface.

Re-apply approximately every 8 to 10 years.
Packaging
Gallons
 5 gallon pail
55 gallon drum
Safety
CAUTION When Using Mineral Sealer
If gets in eyes rinse with water.
Keep away from glass