Products – DBX
DBX Safety Paint Stripper and Sealer Remover : Removes any resin based coating
DBX is a non-hazardous, water-soluble paint stripping solution, which effectively softens coatings by expanding the molecules so that coating can be removed easily.  DBX has NO Methylene Chloride and it will not burn the person applying it. DBX works on conventional water-based and solvent-based paints, varnishes and sealers, as well as urethane and epoxy formulations.
Despite the fact DBX contains no highly toxic solvents or caustics, it retains benefits associated with each. DBX is a molecule expanding formula, so it works on virtually all types of coatings and sealers. DBX is also long lasting, so, like caustics, it is able to remove multiple layers of built up coatings without rapidly evaporating and losing its strength.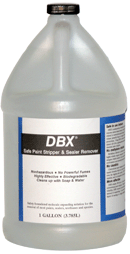 Interior & Exterior Use
Stripes
Paint
Urethanes
Expoxies
Floor Finishes & Sealers
Coverage
Approximately 75 - 100 sq. ft. per gallon, depending on the porosity of the surface.
Packaging
Cases of 4 x 1 gallon bottles
 5 gallon metal pail
55 gallon metal drum
Safety
CAUTION When Using DBX
Wear Oil Resistant Rubber Gloves & Shoes!
Eye Protection
Ventilate Enclosed Areas
If spraying or misting DBX, wear NIOSH approved respiratory equipment.
Protect Surround Plant Life!