Products – Safe Etch
Safe Etch will remove the latents or top cream coat from the concrete without softening the concrete as Muriatic Acid does allowing you to etch smooth concrete. With Safe Etch there is now a better alternative to corrosive chemicals and mechanical blasting that prepares the surface for proper coating adhesion.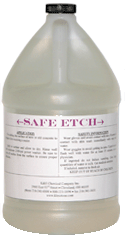 Interior & Exterior Use
Coverage
Approximately 75 - 150 sq. ft. per gallon, depending on the porosity of the surface.

For best coverage, use a concrete sprayer to apply. Let dry. Power wash off with 2000 psi.
Packaging
Gallons
5 gallon pail
55 gallon drum
Safety
CAUTION When Using Safe Etch
Wear Protective Clothing (Gloves & Goggles)
Ventialte Enclosed Areas
If gets on skin or in eyes rinse thoroughly with water.