Products – Tile & Brick Preparer
A fluoride salt solution that excels at preparing ceramic tile, brick or porcelain to readily accept any coating.
Tile & Brick Preparer is a water-based salt solution that is deep cleaning on even the toughest grease, oil and dirt. This creates a superior base for coatings by not eating away any hard surface, and in addition, Tile & Brick Preparer will appear white on treated surfaces. This product deglosses the surface allowing for a proper surface to bond for any polyurethane, epoxy, or other type of paint being applied. 
To use, just apply to a dry surface, then after allowing time for the product to work, Then rinse thoroughly with water. No special equipment is required, and Tile & Brick Preparer can be left on surfaces to dry, without harm.  All that is needed is a thorough rinse.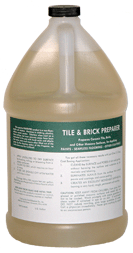 Interior & Exterior Use
Prepares Surfaces
Ceramic Tile
Brick
Porcelain
Other Masonry Surfaces
Coverage
Approximately 200 - 500 sq. ft. per gallon, depending on the porosity of the surface.
Packaging
Gallons
 5 gallon pail
55 gallon drums
Safety
CAUTION When Using Tile & Brick Preparer
Wear Protective Clothing (Gloves & Goggles)
if gets on skin or in eyes rinse thoroughly with water

DO NOT GET ON GLASS!
            Not Treated           Treated