Products – CSP – Concrete Stone Preparer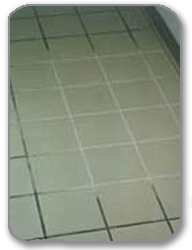 CSP is used to restore tile floors by removing soap scum and cleaning grout joints. It is also used to remove efflorescence from brick. In addition, CSP is ideal to use before sealing.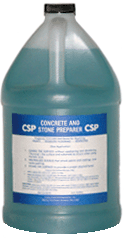 Interior & Exterior Use
Surfaces
Cleaning New Masonry
Removing Efflorescence
Cleaning White or Light Grey Grout 
Preparing Concrete Floors Being Coated
Coverage
Approximately 400 - 500 sq. ft. per gallon, depending on the porosity of the surface.
Packaging
Cases of 4 x 1 gallon bottles
 gallon plastic pail
55 gallon plastic drum
Safety
CAUTION When Using CSP
Wear Protective Clothing (Gloves & Goggles)
Use In Well Ventilated Area
If Skin or Eye Contact Occurs. Rinse Thoroughly With Water